As we all know, the labor market consists of two major parties:
Companies that hire and employ talent
Candidates that want to work in the companies
Quite often the first group is looking for a "dream candidate", while the latter seeks a "dream career". In theory, it's best to aim high and to fine tune your expectations while exploring the market. In practice, it can be rather painful to change expectations because, for example, the best candidate or job available on the market right now may not reach one's dream level.
Having said that, we should try to get as close as possible to the "dream". But how?
Below is a chart of how, on average, the GreenTech/Renewable energy industry finds its best possible candidates and vice versa.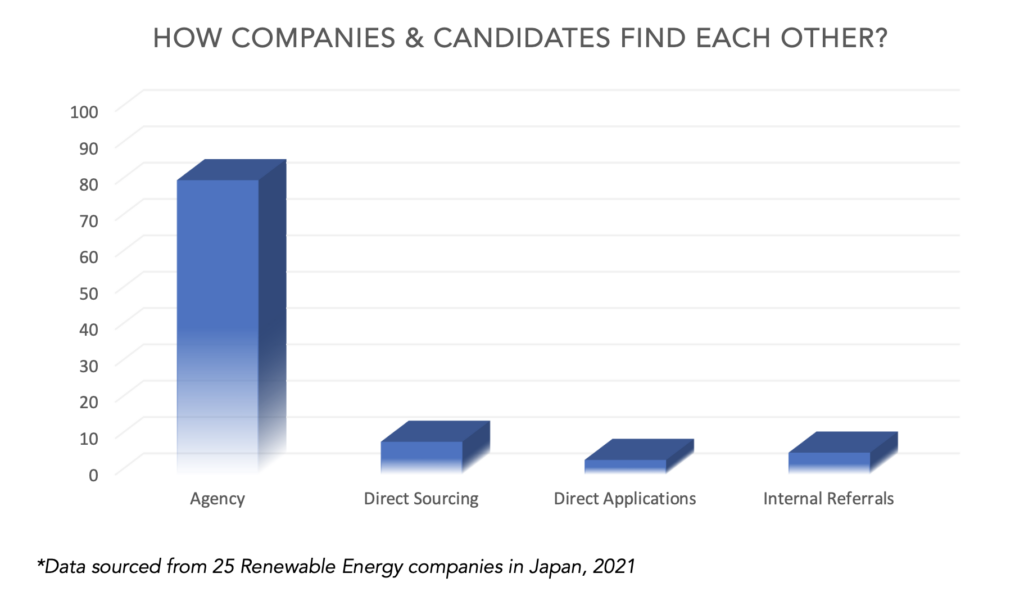 Pros/Cons for each of the above approaches
Recruitment agency:
+ Quickest solution, maximizing chances to succeed
+ Allows one to see most of the market and compare, thus minimizing the distance to your dream.
+ Comprehensive advice, helping to manage expectations
– Minor costs for the hiring company
– Difficulty to select the "right" agency
Direct Sourcing (using internal/company talent acquisition team):
+ More control over process for hiring companies
+ Less cost for companies
+ Access to some roles not publicly open
– Limited access to candidates for the hiring company
– Limited understanding of the market
– Difficulty in negotiation and influencing the hiring process for candidates
Direct applications:
+ Minimum cost for the hiring company
+ Minimum time required to apply (for candidates)
– Low success rate
– Low predictability and feedback
Internal referral/introduction:
+ Saves time for the role/candidate assessment
+ Often is a good match from the company culture perspective
– Limited access to the pool of jobs and candidates
– Complexity of the negotiation process
Case Study
Here's a recent case illustrating some of the above. An overseas renewable energy developer had operated in Japan for a while, but found the hiring process on more time-sensitive positions to be stressful. The human resource (HR) department believed the issue may be with the two recruitment agencies it employed. So, for the next hires, HR managers decided to try a different approach.
This time, the company did not disclose its new position to any recruitment firms and instead looked to use the internal resources. While in-house HR looked at job boards and scouted on LinkedIn, the managers who needed to recruit new team members reached out to people in their social networks. Naturally, the latter process meant contacting ex-colleagues of the hiring managers.
After 2 months, the company had identified 5 candidates. But this is how the process unfolded:
3 candidates didn't meet the expectations for the role
1 candidate proceeded through the interview process smoothly, until they suddenly informed HR that they had accepted a job offer from another company (HR had not been aware that this person was also interviewing elsewhere)
1 candidate was strongly recommended by one of the hiring managers (his ex- boss), and went as far as to engage with the hiring process, but eventually decided to stay at his current post
In that particular case, the renewables company felt that it lost control of the hiring process when it relied only on its network and online scouting, and came up with a new solution: It engaged different agencies to work on its job searches. Fortunately, it found its new staff within six weeks.
Takeaways
Recruitment is often an unpredictable process and gaining control of hiring depends on the approach each company feels comfortable with and which shows results.
Turning to a recruitment agency is likely to be the most efficient pathway, but for a one-off hire situation it can be hit and miss. Some agencies are really good at cross- functional and high-volume recruitment; others specialize in contract employment or niche/functional hires.
Unfortunately, there is no silver bullet, but testing several approaches can help a company better understand what works for them.
This article originally appeared in the Japan NRG newsletter. NGR Japan is a one-stop platform that delivers both information and analysis on energy and electricity markets in Japan.